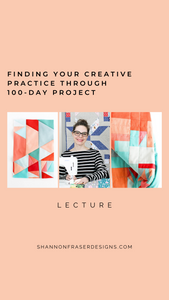 Looking for ways to develop your quilty creative practice?
Let me share how taking on a 100-day project can help you do just that. I'll share with you my first 100-day experience, how I picked my topic, how I kept it manageable, the challenges I faced, the quilt I created through the journey, and what I learned from sticking with this creative challenge. I'll also share tips on how you can successfully navigate this challenge to reap the most of out it and build a lasting creative practice. 
Join me online for this 1-hour virtual lecture intended to inspire you in establishing your own creative practice at home. 
What You'll Learn:
You'll learn why I took on the 100-Day Challenge, what I made, what I learned, and how you can take on this creative challenge to establish your own creative practice.

Skill Level:
This class is suitable for all levels of quilters.
Timing:
The virtual lecture will occur on Saturday, February 5, 2022, from 10 am to 11 am EST.
Workshop Location:
This is a virtual lecture that will occur over Zoom. I will send you a personalized link to join a few days before the lecture.
I can't wait to share this inspiring journey with you!

xo,

Shannon
REFUND POLICY
Please note I am unable to accommodate any refunds on lectures unless cancellation occurs 30 days or more prior to the scheduled class date. All refunds will be minus payment provider fees. 
All prices are in USD.