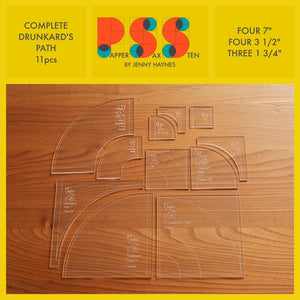 Make your curve piecing journey easy breezy with a set of Papper Sax Sten's classic Drunkard's Path templates. What's fabulous about this design is that Jenny's built in some trim down wiggle room, so your piecing doesn't have to be perfect, the rulers will help you bring them back on their curvy path!
The acrylic set includes drunkard's path rulers in sizes:

Drunkard's Path 1¾", 3½" and 7"

Double Drunkard's Path 3½" and 7"

Triple Drunkard's Path 7"
All prices listed in USD.